ChameleonJohn $10,000 University Scholarship 2015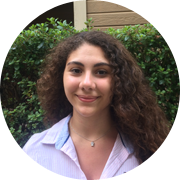 The Winner of ChameleonJohn $10,000 University Scholarship in 2015 is Katherine Mavrommati from Cupertino, CA to study Biomedical Engineering at the California Polytechnic State University.
We have asked her a few questions about her experience raising funds for her studies in the USA. Check her answers out!
Could you tell us a bit more about yourself? Your hobbies or extracurricular activities?
I take full advantage of the sunny California weather and go on hikes with my friends either at the mountains or the beach. I played the piano for more than 10 years but I couldn't take the piano with me to college. I recently got myself keyboards and I am now re-united with my old passion.
How did you feel when you found out you won the $10,000 scholarship?
I feel so blessed that I won the $10,000 scholarship. After I received the email from ChameleonJohn that there were 1771 applicants I was very intimidated and definitely did not expect to win. It was a huge surprise for me and every time I remind myself that I won, I get even more excited.
What do you think about the questions asked on our application form?
It was a pleasure to answer the questions that ChameleonJohn's scholarship asked. They were phrased in such a way that I felt like you were genuinely interested in my future goals and motivations. Most of the private scholarships that I had to apply to linked their questions in some way with their business, which makes the applicants' responses impersonal.
What part of your tuition fees will these $10,000 cover?
This scholarship was very important for me because it covers my whole tuition for one year at Cal Poly. This means that I don't have to worry about not being able to register for classes, which relieves me and my mother from a lot of pressure. I still have to finance my living expenses but with the government financial aid received, some savings and hopefully more scholarships or internship opportunities I will be able to finance my whole year at my university.
What would you have done if you didn't win this scholarship?
This scholarship was a true blessing. If I hadn't received it I would have had to take some loans to finance my education. I would also have to find a job either on campus or outside of campus which would not allow me to take as many classes as I would like to in order to graduate on time.
Is it relatively easy to get a scholarship to study in the United States or it requires a ton of work and persistence?
I have been very fortunate to finance my education up until now with different scholarships but it was not an easy job. Gaining scholarships requires dedication and determination. There are a lot of available scholarships throughout the year so as an applicant I have to constantly check various websites with listings of scholarships and their deadlines. Many websites have an email list, which I joined and get regular updates regarding available scholarships. Also, it is important to be able to convey your motivation for achieving your goals in every essay that you have to write. This is what makes you unique and separates you from the rest of the applicant pool.
What are other effective ways for students to raise funds for their studies in the United States?
Make sure to complete the FAFSA application every year. Even the smallest financial aid received makes a difference. Furthermore, internships can be a very beneficial source of experience and income. Most internships are well paid and there is no better way to raise money for our education than gaining experience in our own field. The summertime is a vital period as we have a lot of spare time to either get an internship or get a summer job. This money can go towards next year's housing.
What would your advice be to our next year's applicants? What should they pay attention to?
I believe it is important to have a vision and a plan to make it happen. Being able to convey that is very important because it shows determination. Also, it is important to be creative and try to think outside the box when responding to the questions. The best way to do that is to respond genuinely and not according to what you think they want to hear.