Once you've identified the item you wish to purchase and entered in all of your address and shipping details, confirm that the information is correct. You'll then be redirected to a new page where you can apply your Best Buy coupon code.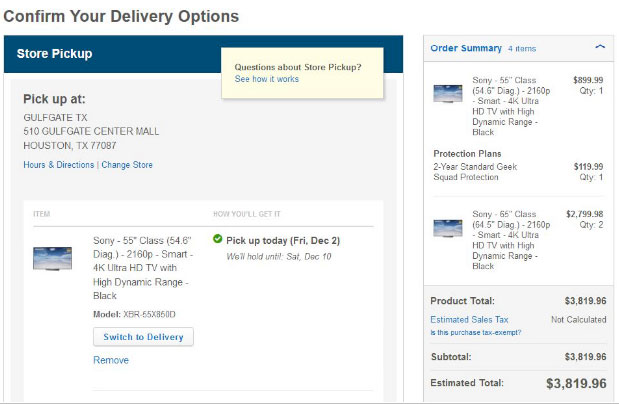 Once you have been redirected, you can enter in your preferred method of payment and the all important - a promo code. Once you've typed it into the text box, click 'APPLY' and your new, discounted price will appear on the right hand side of your screen.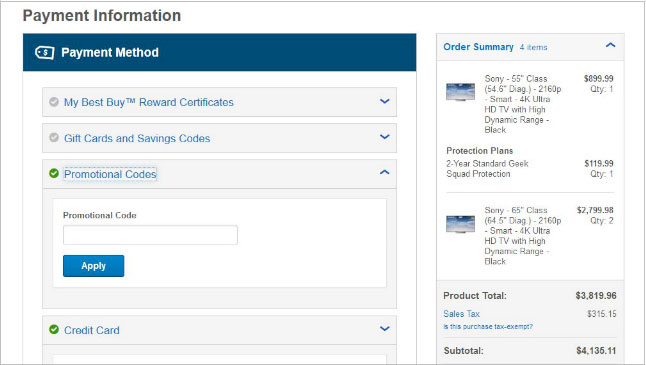 Best Buy's Shopping Tips
Be sure to check the 'Deal of the Day' section of their website regularly. As expected, the deals change everyday, so sooner or later you're bound to save heavily on a piece of technology that you really want.

As with any store you shop at frequently, it's wise to sign up to the loyalty and rewards scheme. With every purchase you will be able to claim rewards and points which can be put towards saving on future purchases. This also grants you eligibility for exclusive offers and savings.

Apply for the Best Buy pay card. The pay card will increase the amount of points you can earn from each purchase and the rewards gained from purchases will be greater too. Furthermore, the pay card will help you secure financing at both stores and online.

Just because you're a student doesn't mean that you have to miss out on the savings at Best Buy. Use Best Buy's student portal to help take advantage of discounts and offers. The student portal normally offers particularly good Best Buy coupon codes for laptops, speakers, drones and fitness apparatus.

Be aware of holiday specials. At Christmas, Best Buy offer free two-day shipping with all purchases as well as a range of enticing holiday discounts.
What Deals are Currently Available on Best Buy?
Best Buy consistently have an extensive list of items with various discounts and offers. Some of their finest offers feature in the 'Deal of the Day' section. However, as the section's title suggest, these particular deals are only available for a limited amount of time. Each discounted item features a clock counting down to the deal's expiration time. One item that currently features on the 'Deal of the Day' is a Vivitek wireless projector with a $100 discount. The item is highly reviewed and Best Buy are also offering free shipping with the item.
Best Buy are also readily aware of the plight of the student. Most students cannot afford to the expense of electronics so Best Buy have introduced the students' portal to help. In this section of their website, students can save on academic essentials such as the current $100 discount on the Microsoft Surface Book.
Various other Best Buy discounts can be found on the 'Weekly Ad' page. This section features a plethora of deals, allowing you to navigate a range of different items quickly and easily. The majority of the discounts found here relate to laptops and televisions mainly, with discounts ranging anywhere between $10 and $200.
Loyalty Points and How to Enroll
On the surface, Best Buy's loyalty and rewards scheme seems complicated but it is fairly straightforward once it has been explained. Best Buy operate a loyalty program with three tiers: My Best Buy, Elite and Elite plus designation. These packages feature different specifications for the customer to apply, but they also offer different benefits.
To qualify for the loyalty and rewards scheme, you need to become a Best Buy member. This can be done by creating an account on BestBuy.com. It is free to create this account and has no membership fees or financial stipulations attached.
When Do I Start Receiving Points and When Can I Use Them?
As soon as you've joined the loyalty and rewards scheme, you will be able to start acquiring points from the very next purchase you make with Best Buy. These points will become usable 15 days after the time of purchase or the time of shipment.
Who is Eligible to Join?
The Best Buy loyalty and rewards scheme is open to individual U.S. residents (The 50 states, D.C and Puerto Rico) who are at least 13 years of age and have a regularly-used valid email address. However, those between 13 years of age and between 18 and 19 years depending on what state you are from must obtain permission from a parent or legal guardian before they can apply for the scheme.
What Different Benefits Does the Loyalty and Rewards Scheme Offer?
Depending on which scheme you qualify for, there will be different benefits you can take advantage of with your Best Buy account. One benefit that is consistent across all tiers of the loyalty and rewards scheme is the redemption of points- the standard is $5 for 250 points.
My Best Buy: with this package you can accumulate half a point for every dollar spent at Best Buy. You also qualify for free two-day shipping on any items with a minimum price of $35 that clearly states that it is part of the 'free two-day shipping' collection. You have 15 days to return these items and will be granted access to special offers and Best Buy coupons. Should you require their assistance, you will also receive free set-up of your purchased item by the Geek Squad and access to the 24/7 1-888-BESTBUY customer care service line to reconcile any issues that arise with your purchases. Unlike the other packages, you do not qualify for the point banking option; this is only available with the higher packages. This package is entry level and free to join.

Elite: Elite is the second highest package available and has a greater range of benefits available. You can acquire one point for every dollar spent at Best Buy and you have 30 days to return purchases. Once again, you qualify for free two-day shipping and free scheduled delivery but there is no price restriction- all items you purchase will qualify for free two-day shipping. However, access to this offer may be affected during holiday periods. You will qualify for free set-up by the Geek Squad and have access to a customer care line exclusive to Elite members. You also have the point banking option available as well as access to Best Buy promo codes and sales reserved for Elite members. Membership for the Elite package costs a minimum of $1500 per calendar year.

Elite Plus: The Elite Plus scheme is the highest possible package available at Best Buy. Your loyalty points now amount to a point and a half for every dollar spent at Best Buy. You also have access to the point banking option and free set-up by the Geek Squad. Free two-day delivery and free scheduled delivery are available with no price restrictions all year round- even during busy holiday periods. As well as access to Best Buy coupon codes and sales, you will receive access to an exclusive Elite Plus members customer care line. You have an extended period of 45 days to return your purchased items. To become a member of the Elite Plus scheme, you have to spend $3500 in purchases over the course of a calendar year.
Best Buy Return Policy
If you have a change of heart over an item you purchased from Best Buy or if the item was damaged, you can return it. However, you should be aware of the Best Buy return policy stipulations:
The standard return deadline is 15 days after purchase. However, extensions to 30 and 45 days are granted for members of Elite and Elite Plus schemes respectively.

Cell phones and devices with carrier contracts return deadlines are capped at 14 days for all membership packages, whilst wedding registry items are capped at 60 days.

In the majority of cases, Best Buy will fully refund you for returned items. If you paid more than $800 in cash, or more than $250 by check or by a debit card without a major credit card logo, you will receive your refund by cheque within 10 business days.

For orders completed through Best Buy's website, you can get a copy of your receipt online under the orders tab. This receipt copy can also be printed for filing purposes.

If you receive a product with faults, or the incorrect product, you can return the product to a Best Buy store and have it replaced with the correct item. The item can also be sent in via mail.
What Type of Products I Can Expect to Use My Coupons on?
Across all of Best Buy's discount platforms and sections, every consumer can expect to find a competitive discount that suits their requirements. The sales listings are regularly changed and updated, meaning that if the consumer cannot find a product to suit them today, they will most likely find a product that suits them tomorrow.
Here is a selection of some of the finest items currently available on sale or available for order with discount codes:
Up to 30% off 4K Ultra HD TVs.
Best Buy consistently have an extensive range of 4K Ultra HD TVs from the highest quality brands such as Samsung, Sony and Toshiba. One of the top picks from their current sale is the Samsung 55" curved, 2160p, smart 4K Ultra HD TV in black- was $999.99, now $699.99 - a saving of $300.

Over 50% off Apple Wearable Technology.
Apple's range of smart phone compatible watches come in a range of sizes and colours, with a variety of useful features. You can currently get the Apple first generation, 38mm stainless steel watch in black reduced from $749 down to $349. The watch also comes with free standard shipping.

25% off when you buy three or more select mobile device accessories.
This Best Buy coupon is available right up until December 31st, meaning that you can get a great bundle of mobile device accessories for an even greater price across the entire holiday season. The deal includes a number of items including chargers, cases and USB cables.

Over 50% off in the Best Buy Outlet.
Best Buy's Outlet section offers a vast array of items ranging from protective cases for eBooks to Bluetooth selfie sticks. The Best Buy Outlet is currently selling a number of Marvel Avengers smart figures at the heavily reduced rate of 80%.

Buy Two PS4 or Xbox One Video Games, Get a Third Free
The holiday season is the most prolific part of the year for video game releases, so this deal will guarantee that you acquire some of the year's finest gaming releases at a great price. Some of the newest releases, including the latest instalments of Battlefield and Call of Duty, are valid in the deal. With this offer, savings can amount to 33%.

$200 off the 21.5 Inch iMac.
Standing at an original price $1099.99, this Best Buy promo code will see you save just over 18% off on this state of the art offering from tech giants Apple. With powerful Intel processors, 8GB memory and free two-day shipping, this is a deal not to be missed at Best Buy.

Over 30% off Movies and Music.
Best Buy currently have over 3000 deals on the latest releases from the world of music and film. As well as just singular CDs and DVDs, Best Buy are offering multiple disc collections at highly reduced prices such as the Fast and Furious 7-Movie Collection- was $74.99, now $47.99!