How to Shop Efficiently Online?
It's no surprise that online shopping is way more efficient than walking from store to store, but online shopping can still be a pain in the back if you get distracted. Here are some tips how to keep being focused and turn that already efficient shopping even better.
Know what you want. Unless you enjoy looking through thousands of offers with no clear idea in mind, we suggest that before you launch your shopping spree, you at least know what category of items you want to be looking through. Keep in mind your shoe sizes if you're shopping for footwear, your favorite brands or at least a general idea of what you want. Once you have a clear idea what you're looking for, shopping becomes much faster and there are way less distractions around that can turn your casual keyboard purchase into all out shopping spree where you end up having a new PC with three ultra HD monitors.
Compare the prices. It doesn't matter if you're shopping on Ebay or an unknown electronics store, you should always do at least a fast price check with their biggest competitor. This way you will know when you're being ripped off, and you can also spot some sales. Stores like Amazon also offer different versions of their main website for specific countries, so even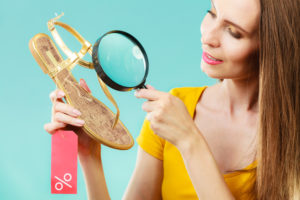 though the shipping costs will be bigger, you can find way better deals and save some serious money. If you're willing to go even further, you can check out some third party websites you can find by doing a quick google search that do the comparison for you. The price you buy your item for really comes down to how committed you are to saving money, so keep looking until you find the best deal possible.
Read the reviews. If you have some time on your hands, reading the reviews might be a good idea. Unless the shop and the item you're looking at has been sold before countless times and has a five star rating, you should definitely check out reviews before purchasing it. Although they might be helpful, be sure that they're genuine since there are a lot of fake reviews out there. It's useful to check the reviewer itself before taking any of his words into consideration as "he" might be just a fake profile created to promote the product. If the item has solid rating and good reviews, written by actual people, it's safe to assume that you wont be disappointed with your purchase, if that was what you really wanted in the first place. There is always a chance that you will still be unsatisfied, but hey, sometimes no matter how well you were prepared, bad things happen, but we hope that these tips will help you reduce this possibility to a minimum and make your online shopping efficient as possible as it is possible to make!