The Waterproofing Guide: What Everyone Should Know About Waterproofing Their Homes
The rains were a relief, especially after the cruel heat wave, which gripped the city for over a week. As CEO of a multinational IT firm Mr. Ghosh, returned from a weeklong of work travel heaved a sigh of happiness experiencing the first drops on his forehead, boarded the car from the airport to his home.
While being driven by his chauffeur, Mr. Ghosh suddenly had a thought cross his mind. Last year while the rains lashed mercilessly across the city, the basement at home suffered the most. But, he swept the problem under the rug. For now, a worried Mr. Ghosh couldn't think straight, his life was in the basement where he had stored his vintage Pontiac collection gifted by his wife; Elvis Presley records and Mughal-E-Azam original script for that matter.
Lo and behold, his worst fears came true! As Mr. Ghosh rushed down to the basement he witnessed boxes containing precious vintage car magazines were being soaked. He had been meaning to move them to the attic since last week.
Wasting no time further, dressed in his 3-piece suit, Mr. Ghosh alone quickly made way through the murky, shallow cold waters and somehow managed to roll up his pants and grab a few cardboard boxes to move them up. Sadly, much of the collectibles were lost by then, soaked by the dirty waters that formed a mini-pool inside the basement.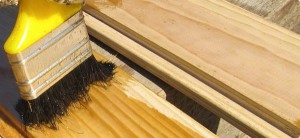 That's how merciless water can be, my friends!
Waterproofing: The Best Investment for a Healthy Home
Irrespective of where your house is built, the kind of lifestyle you lead or the state-of-the-art facilities and amenities you use to build your home, water damages can mercilessly play havoc and usurp it all. But what's worse is how we generally tend to overlook the teething water issues. 'We shall see when the time comes', 'Waterproofing the house is a waste of time and money', 'There are other things to be bothered about', and 'The other houses do not have waterproofing, so it's cool!' are a few excuses we graciously convince ourselves against the water rescue act – WATERPROOFING!
What Happens if You Don't Waterproof?
One must be aware about the fact that if water finds its way, it will find its way in. And when it does, it is important to be extremely wary of its presence as it can cause damage to wood, rot timber and pose electrical problems long before its presence is detected inside the house. It can lead to floor and balconies to collapse, too. Moreover, presence of excessive long holding water, especially in the monsoon season, can also trigger many health hazards, such as allergic reactions and respiratory problems.
Timber structures, studs, beams and floors, frames and architraves rot over time.
Reinforced metals, steel beams, metal window and door frames corrode.
De-bonding of ceramic tiles and plasterboard swelling happens.
Electrical issues, such as short circuits and fires are a possibility, loss of life included.
Wall paints peel off, wallpapers too. And hey, if you are looking for saving handsomely on some fun, quirky yet picturesque wallpapers and home decor items for your home, you shouldn't think twice before heading towards Kohls.com. Expert money management wizards at chameleonjohn.com are offering you coupons for kohls.com, which will make sure that you get the best of buys while saving righteously on home accents and decor items.
The building facade inside out is in a sorry state, ugly patches, peels and stains.
Health issues, especially respiratory problems due to the spores let out by molds and mildew.
Shaggy carpets on the floor.
High energy bills, insulating the home is a challenge while the winds blow hot and cold outside because of the cracks and leaks invisible to the naked human eye.
Lower appraisal values for your home.
Not only this, some studies have also revealed a direct correlation between mould and depression. Creepy monsters, such as molds and mildews only thrive in moist conditions leading to insect infestation, and must be kept at bay by quality waterproofing.
Smart and Practical Ways to Waterproof Your Home
There are many ways and types in which you could waterproof your home. Be it Brick Bet Waterproofing that helps do away with cracks and water leakage marks and gives an appealing coverage by using china mosaic tiles or pre-monsoon treatment Poly Acrylic Chemical Coating Waterproofing that is done by highly trained professionals or Pre -Monsoon Roof Repairing done once in a year – one need to choose their waterproofing pick wisely.
When waterproofing, always keep in mind to give case-specific attention to the joints and edges of the building, both internally and externally, as they are most likely to allow water seepage.
If your home is still under construction, then make sure that special attention is given to the foundation and pillars of your building and do not forget to ask your contractor or builder for the kind of waterproofing product, range and technique he is using.
Do note that the protective membranes used in waterproofing are always invisible and helps in enhancing the aesthetic visual appeal and durability of the building in the long run.
Waterproofing and its importance can never be underestimated or overstated. Application of the concept warrants the longevity of the home and its structure, keeping it safe from damages in the long run. Would you rather pay high costs of rectification coupled with other damages when crisis hits, or make a wise and a well-informed decision now, allowing waterproofing as a worthy investment to make? Think about the long-term benefits, get aware of the benefits of waterproofing and welcome peace of mind while the rains sweep across the city. Welcome the rains with a hot cup of tea, watching the dance of nature at its best, not by dancing around to save your home and belongings.