5 Affordable & Chic Outdoor Decor Ideas
If you have been spending too much time, worrying about the décor indoors, it's time for you to go out there and explore the outdoors- of your home! Why do we spend and splurge on remodelling the living hall and the bedroom or the kitchen and washroom so much, while ignoring the garden and patio, as if they don't add up to the beauty? Let's not be unfair and remember, when appraisals of homes are done, the banks would check the inside and the outside to bring you the best price- think of the house outdoors as a money making venture, waiting to be polished to its prime. What shines would sell, and with a little investment that doesn't rip your pockets apart, you would have large fortunes to enjoy at a later stage in life!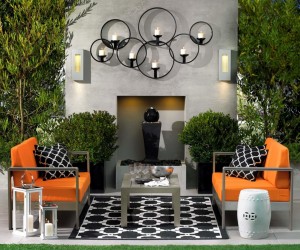 Let's begin with the backyard and the garden
Do a little research now, and check for state-of-the-art materials and affordable architectural salvage that can be someone else's rubbish but your bounty. Have you ever wondered how that tarpaulin with a slight scratch now discarded by the neighbours can be re-used as a shade cover for garden seating and tea-time meets? Never thought about this right? Build a wooden fence around the shaded spot once the tarpaulin is up and use crushed limestone to level the ground around. You now have your own garden café to boast off, and from a discarded tarpaulin too!
Pea gravel and cobblestones with slate
The three do not cost a bomb, and they make the garden look very Victorian and royal too. With the right outdoor flooring done for cheap, potential buyers would want to have a fairytale entrance to their homes. Local hardware and granite stores would help you procure the same in bulk, and the best part is, if it does rain while the monsoons go harsh and wild, water wouldn't accumulate and you wouldn't suffer from slips and falls too. The gravel and cobble stones have grips to keep you steady and they soak up the water, while the slate helps as stepping stones- rustic, affordable and giving the home a very classy look too!
Gather those freestanding rocks
If you take a walk around your neighbourhood, you'd find plenty of freestanding rocks untouched since no one knows when. You should also check with the hardware stores for stainless steel containers and tubs that have been discarded by homeowners, post a remodelling session of their homes. Get traditional and tribal if you please or just use your innovation and spray paint them all. Design and create patterns on them, and place the tubs and containers around the garden or the picket fence for saplings, bushes and plants to grow in. A secret that Mary didn't tell us when we asked her how her garden grows, with silver bells and cockle shells!
Make your own fire pit
For this you would need a large discarded metal container, a bag of charcoal and gasoline. Nestle the container in one corner (shaded preferably) on the cobble stones and gravel for secure standing. Stack the rest inside it, and paint the tub with colours and patterns of your choice. A utilitarian look for sure would come through, and BBQ parties galore for you to enjoy with family, neighbor and friends!
Choose inexpensive materials to spruce up the décor outdoors
You wouldn't want to use materials that cannot withstand the onslaught and vagaries of the elements out there, which is why cinder blocks, gravel and wood that is pressure treated are affordable and the best items to use. Stay away from plywood and use firewood, opt for gravel and cobble stones and not green grass saplings for the whole backyard. Use a little mix and match concepts to bring home the best fairytale look for cheap. Think of concrete steppers to make a very magical entrance manifest itself to the front door of your home.
Finally, you can make a budget-friendly concrete bench with bricks or maybe a brick and wood bench too, and that wouldn't rip your wallets! There are many more such ideas from where these five have come, only if you keep an open mind and shop smart!