5 Natural Things You Can Find At Home Which Can Change Pills
Are you afraid of drugs? Or do you prefer natural remedies instead of something creating in a laboratory? No worries! Frightening side effects, uncertain composition, the smell and the taste of various drugs and pills are not always inviting.
However, if you are seriously sick, only a professional doctor can help. But if you have such a simply flue or your stomach is a little bit sick, don't rush to a pharmacy and drink a hand full of pills. Better read about these five natural home remedies with which you can once and for all replace pills!
Water
How often we do not value what we have. After all, water is the best source of health. When you are ill, your body is working from the tips of the fingers to bones in order to remove harmful microorganisms' influx. The water, in this case, will help to clean them all faster and more efficiently. Usually, it is believed that during an average day you need to drink eight glasses of water, but while you are sick, you should drink more. However, if pure still water doesn't sound very appealing add a piece of lemon in it. Because of this, various pathogens will be removed from the body more quickly. In addition, lemon water (just like water with mints), helps to fight nausea as well, so you can use that to fight bad stomach as well.
Ginger tea
Ginger is one of the best natural remedies ever. It not only has anti-viral and anti-inflammatory properties but can also overcome some of the symptoms like a sore throat, abdominal pain or a headache. Cut the ginger into a few fine rings, pour hot water and boil all that for 5-10 minutes. The longer you boil ginger this way, the stronger you get a drink. Drink such ginger tea with a teaspoon of honey, to cure your aching throat as well, and also increase your immune system, which is so necessary not only during winter but in the spring as well!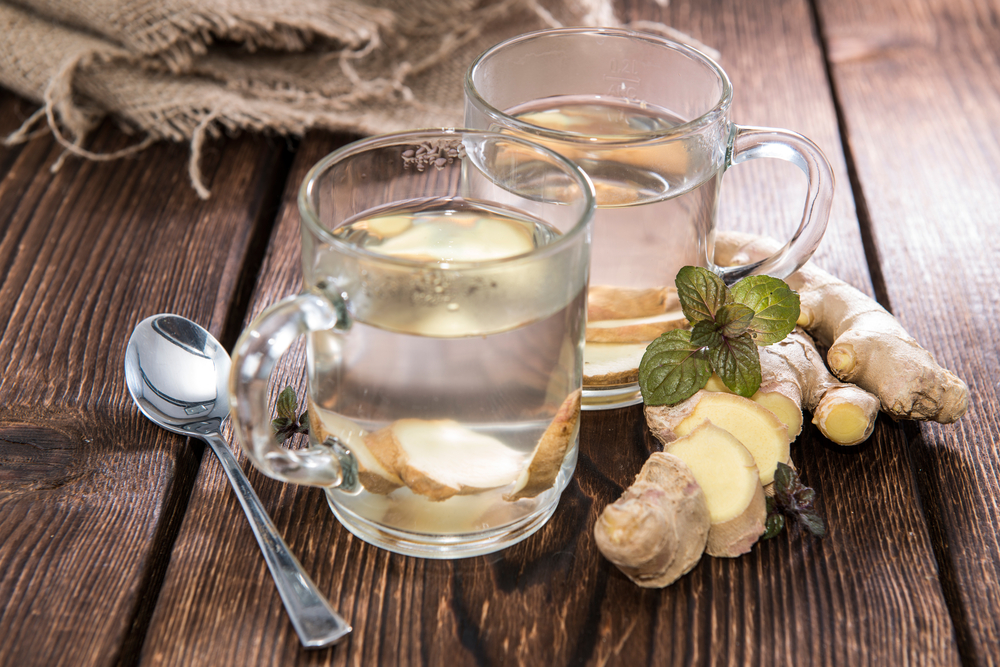 Coconut oil
Girls really know what benefits coconut oil gives. However, this product's moisturizing properties are ideal for combating cold and flu as well! When we get sick and cold, always running nose makes the skin at the nostrils dry and it starts to thread. In this case, coconut oil can be very handy! Just slightly lubricate the nose with it and observe – the skin around the nose will get calm and moisturized, and you will get a chance to enjoy its great smells as well. To be honest, coconut oil has a calming effect, which is very important when you sick as well, and it is super easy to find it and buy such oil as well. Just go to Amazon and prove that by yourself (and definitely shop there too, because these Amazon coupons are not going to last forever!).
Salt
When you enter the pharmacy, you can quickly get lost in the products which can be sprayed into the nose. However, the problem with these sprays is the fact that you and your nose can quickly get addictive to it. So remember the old grandmas' method: nasal cleansing with salt water. Just simply add a pinch of salt into the water, pour everything into a convenient spray bottle for you, and spray it every two hours. Soon you will see that the effect is not much different from that you used to get when you bought such products from pharmacies.
Melatonin
The last but not least best home remedy is… sleep! It has been shown that melatonin helps to restore strength and well being. The body produces this hormone during sleep. Therefore, you should help your body make it and nap for a couple of hours! So all those stories your grandmother used to tell, that the best cure for all the diseases is sleep, is true! The simplest, deep, 8 hours of sleep can do miracles, and you won't even miss drinking pills or getting numerous other remedies in your body!