5 Tips for Doing up a Snuggly Nursery for a Kid's Bedroom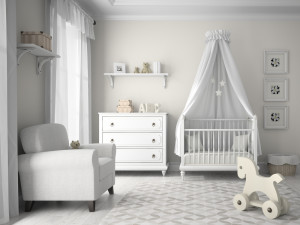 Your little one needs a space, which he or she can call their own. Building a nursery for the little one isn't a tough nut to crack. In fact, it can be a very rewarding experience with loads of fun involved. But first, we would want you to cover every electrical socket and also to get those cords away as you don't want any mishaps happening with the curious fingers and brains around. If there are furniture pieces that you know can be life threatening, get them anchored away. And finally, should you be using rugs on the floor. Secure them so that the little ones don't trip and fall. Now take a moment to read these important tips on setting up a nursery for the little angels.
1. Put the old toys to some use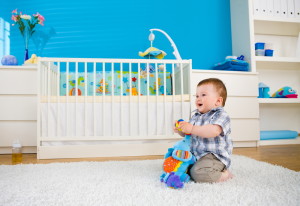 If the older kids around are bored of the toy trucks and the doll houses, it's time to upscale and reuse them as nursery art décor. Our aim here is to make the nursery room for the little one, as colourful and pleasing to the eye as possible. What you could do is to reuse an old toy truck as a storage item; keeping small items such as a pencil, an eraser etc which the little one quite often would use could be stored in them. You could also have the fallen away pieces of toys (safe parts) strung with fairy lights and hung on the walls. Babies and kids love vibrancy around!
2. Don't waste floor space, install a separate diaper shelf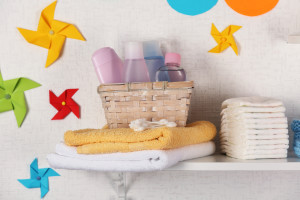 Not all homes are large and spacious, which means we have got to make do with the space we have. Save floor space by installing a diaper supply shelf on the wall. The spot chosen should be closest to where the baby or the kid would be sleeping as it makes easier for a change to be done. The shelf on the wall could be stacked with wipes, baby cosmetics, creams and a few washcloths along with diaper packets.
3. Paint an accent wall in a deeper shade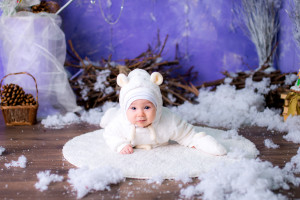 Never assume that paler colours would make a small room look bigger. Instead, make the walls a little more fun to watch by painting one of them in a deeper shade. Colours engage the little eyes, and using the right art décor, wall hangings, murals and painting the furniture to a bright, glossy finish with smooth textured touches can be an awesome way to go ahead building a nursery. To take your artistic game a notch further, you could also pick up cloth and paper roses in various hues and colors, and with the help of glue, paste the roses over huge alphabet cut-outs on the wall. You could also replace the door with a graphic curtain, which could open up the space to an adjoining room during the day.
4. Create a focus recreation spot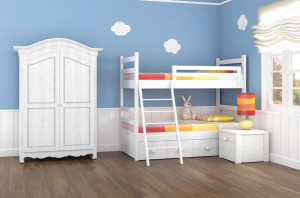 Our little ones have their own set of needs. Relaxation can be a cumbersome task for them as they need a fun place to relax or unwind. As parents, we can should be able to give them that. Place a soft rug with a soft toy in one corner of the nursery, a small wicker stool and a couple of shelves above for books and small toys to house at- the little one now has his or her own focus recreation spot to bask in.
5. Allow a little music in the room 
Not loud and jarring numbers, but soft music consisting of rhymes, animal sounds, funny tones and more, would help to titillate the senses of the toddler and keep them engaged too. Soft music fit for babies and toddlers would also keep the little one cozy and tucked away in slumber too. To enhance the mood and ambience with music, you could also have musical wall hangings or murals stuck by the baby's cot!
We hope these five tips on how to set up a cozy nursery room for your kids comes in handy. Should you have your own, fun and very playful ideas to share, do write in!