Confused While Purchasing Bedsheets? 7 Facts to Keep in Mind While Picking Up Bedsheets
Irrespective of the type of buyer you could be, there are many things to consider when it comes to buying bed linen and sheets, pillow covers and duvets alike. We would like you to save your energy and time, and your money too using these real-life tips when it comes to making a purchase.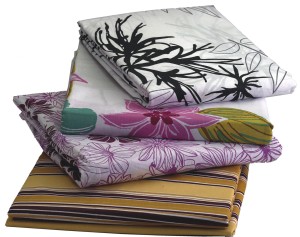 Dimensions to be borne in mind
How big is your mattress? Yes, how big is it? What are the dimensions of your pillows and duvets too? Why do we ask this question- every company that provides bed linen and sheets, seem to have their own etched-in-stone rules to follow! Hence check them out, make a note of the dimensions and then head to the store or shop online for the same.
Your budget matters
For luxe chic bed linens and sheets, the costs are steep, much more than the regular bed furnishings from a wholesale vendor you plan to pick. Jot down your preferences, choices, tastes and likes- your lifestyle and personality too, and think on the lines of the price points you are most comfortable with. If possible, shop and pick only when you can touch and feel the sheet. Do a little homework on design trends for bed furnishing too, and how much they generally cost as well. Every little thing matters.
Any idea of the thread count
The quality of the bedsheets you see and plan to buy would be measured by the TPI or the thread count. TPI means the number of threads per square inch- from left to right and back, in the form of weaves. In layman terms, the more the number, the cozier and snugglier or softer would be the fabric to touch and feel.
Your fabric preferences
Do you wish to have 100% percent pure Egyptian cotton sheets for summer and winters or would you like the luxe touch of satin, silk, rayon or poly-cotton for bed furnishing options? You could also think of flannel and bamboo based bedsheets to buy as well. Get acquainted with the fabric types while you learn more about the thread count, and then pick the best.
Fitted or flat
Flat sheets are used commonly across all households, and fitted sheets are mostly in industrial business, hotels, hospitals etc. You need to decide if you want both or either of them. Ironing and storing flat sheets are easier than the fitted ones though!
Do you want bed sets?
Most homemakers gain bargains and discounts, purchasing complete bed sets, pillow covers and duvets included. Some offers have an extra single sheet thrown in too. It would be wise to hunt for such offers before considering your final purchase- save time, money and energy and one extra sheet to come along wouldn't kill!
Laundering talks
Maintaining and cleaning your sheets should be followed to the T, as told by the manufacturer. There are certain ways to remove grease and oil stains, and quite different from how you would remove blood and other body fluid stains from the sheets- follow the manufacturers advise even on washing with cold or hot water too, and which methods not to use.
With the festival season upcoming and everyone planning to wear and buy something new, take one good look at the bedroom and ask yourself this one important question!
How welcoming is your bed?
More than half of our lives, we spend on our humble beds, and brand new linen is what we intend to at most times to spread and lay on, isn't it? But how do you shop for the linen and sheets? Are you an impulsive buyer, a careful purchaser, or only pick sheets when the occasion calls for one- these three would tell you how you feel about your bed! Be a wise shopper!