Have you tasted the flavoursome Indian Cuisine?
India is a land of traditions. India, which is divided over several states, is proud of its customs and traditions. Every state of the country has its own style of cooking food and it goes without saying that every cuisine is more flavoursome than the other. It becomes really hard to find a dish that is not satisfying. Here we will discuss some of the best Indian cuisine that has found the place of price in the national list of cuisines. Let's start from the southernmost Indian state Kerala:
Kerala cuisine:
Kerala which is best known as the God's Own Country is located in the southern part of India. This is one among the other favourite Indian holiday destination with frequent flight connectivity to all Indian and foreign states. This coastal state of the country is famous for the green environs and also its special cuisine which is also called the Malabar cuisine.  The state is the land where coconuts are grown abundantly and the locals love using what is easily available. All the dishes that are born here have the coconut flavour in them. Malabar region is famous for its spicy chicken biryani and Nadan Kozhi curry (chicken curry). The tradition lunch or dinner at Kerala is called Sadya which is offered in banana leaf. If you are in Kerala and have not tasted the chicken biryani, vegetable stew and meen curry then you are missing something really important.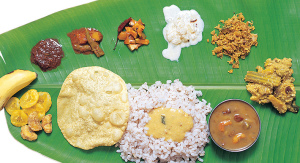 Tamil Cuisine:
Tamil cuisine which is also called Hyderabadi cuisine is very much inspired from the state's neighbour Kerala and also the royals (Nawabs) who ruled over the state in the history. The state is famous for its vegetarian and non-vegetarian cuisine. The spices that are used in the Tamil cuisine make the food taste different. Coriander, ginger, garlic, cumin, nutmeg, coconut and rosewater are the flavouring agents used in the Tamil cuisine. If you are a non-vegetarian then you must try the Hyderabadi chilli chicken, chettinad chicken and the special Hyderabadi biryani which is famous for its spicy fluffy rice and tender chicken that is cooked in special spices. Idli, upma, pongal, rasam, dosa and puliogare are some Tamil Nadu dishes that have been a part of traditional Indian food.
Maharashtrian cuisine:
Pooran poli, jhunka bhakri, bharli vangi, missal pav and of course vada pav are the part of traditional Indian food from Maharashtra. This Marathi speaking state of India has been a land that has consistently maintained its flavours. Specially, the vada pav has been famous all over the world as a quick snack that is easy on pocket and heavy on stomach. Vada Pav is basically a potato ball that is stuffed in a bun. To add flavours there are various chutneys (sauces). When you are in Mumbai or any other city of Maharashtra, dig into these vada pav's along with other special dishes.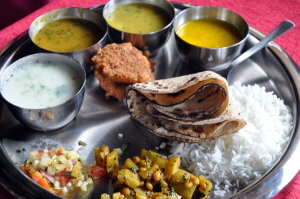 Gujarati cuisine:
Dhokla, fafda, gelebi, khandvi etc. are some famous Gujarati snacks. Gujaratis are great foodies who love to eat and serve. The state is known for its flavours, traditions, customs and mannerism. It is the land where famous Indian leaders like Mahatma Gandhi were born. Gujaratis love it when their plates are full and if you are on Gujarati land, make sure that you surely pile on a few kilos because of this irresistible cuisine and friendly people who love to stuff food.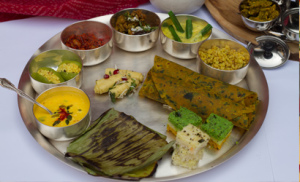 Rajasthani cuisine:
Rajasthan cuisine is a part of tradition Indian food. The food in this part of Northern India is very much inspired by the war stricken lifestyles which the state has been in for ages in the history. Rajasthan prefers foods that are baked. Baking the food makes it last for long. Rajasthan has always been a part of India which has been experience scarcity of water. The water shortage also limits the availability of fresh vegetables, but that does not make Rajasthani cuisine something that can be ignored. Rajasthani dishes are the tastiest Indian cuisine that has been loved by the royals too. Kicha Ki Sabji, Moranga Ki Subji, Badi, Kadi and Kikoda Ki Subji are some tradition Rajasthani cuisine that must be tasted. Ghevar, Imarti, Gujio, Milk Cake are some sweets that are a part of Tradition Indian cuisine from Rajasthan.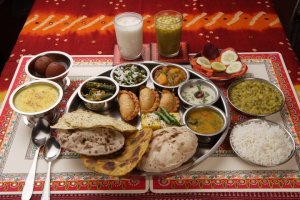 India is one big country and the different flavours of different states make your visit to India a memorable one. When you are on an Indian tour, make sure that you visit every single state of the country and taste the local cuisine there to complete your journey.